By Tony Martins
Continued from BEST of SHOT – HUNTING: Part 1
BENELLI
Big news at Benelli is the full redesign of their venerable Super Black Eagle semi-auto shotgun. Although nearly 10 years of development have gone into the platform, Benelli engineers have nevertheless improved ergonomics and functionality while updating the design, resulting in the new Super Black Eagle 3. The Super Black Eagle is revered by waterfowlers for its performance in wet and cold weather extremes. The new SBE3 sports an oversized bolt release on the receiver, an oversized safety button, an enlarged loading port, and a heavy-textured triangular-shaped magazine cap – all of which facilitate operation with gloved hands. Felt recoil reduction has been a universal concern of shotgun designers lately, and this is particularly important to waterfowlers who often shoot shoulder-pounding 3 or 3-1/2 inch non-toxic loadings. Benelli's third-generation ComforTech stock incorporates additional shock-absorbing chevrons, optimally sized and strategically located to improve shooting comfort. Furthermore, CombTech is a new stock comb pad designed to reduce felt recoil on cheek and face. And, the new Easy Fitting System features a shim kit that provides eight different cast and drop configurations for added comfort and a perfect fit.
One glaring shortfall of earlier SBE and other Benelli models was a user induced problem with proper bolt lockup that prevented firing. This could happen when a shooter tried to ease the bolt closed quietly on a shell. Benelli addressed this issue in its Ethos shotgun line, developing an improved system to close the breech called the Easy-Locking System, and this has been added to the Super Black Eagle 3. CRIO-System barrels, treated to improve patterning, come in both 26 and 28-inch lengths. In addition to standard black, three camo finishes will be available; Realtree Max-5, GORE Optifade Timber and Mossy Oak Bottomlands. MSRPs: $1899.00 (black) and $1999.99 (camo versions).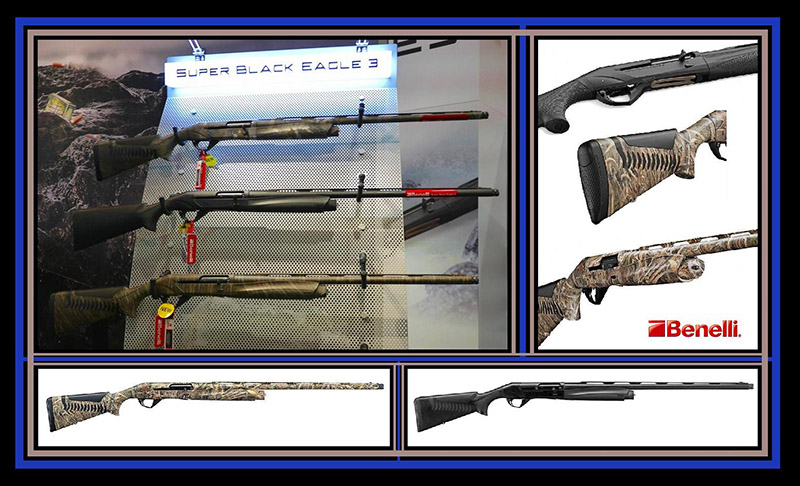 EBERLESTOCK
Eberlestock modular pack designs seem to be limited only by the imagination of designer Glen Eberle himself… and that's pretty much wide open! New this year is the "totally tubular" Batwing Pouch – a tall, narrow pouch similar to the pockets on Eberlestock J-type packs, with wrap-around zipper for access. Since these pouches/pockets/tubes don't have alot of lateral space, contents tend to stay put as you move about. Having the ability to quickly and easily fetch that needed gear is a benefit of this functional design. Modularity is another. External attachment zippers are compatible with Eberlestock's modular system, and webbing loops running down the backside can be used to hang the Batwing from your pack's grapple straps. Attach two Batwings to an F1 Mainframe (an ultra-light frame introduced in 2016) and you have an 800 cubic inch Batwing Pack! Unzip the adjoining zipper, swing the pouches out and make room for a duffle or gun scabbard. Add one or two Batwings to a J-type pack (like the award-winning Just One, Dragonfly or Blue Widow) to add capacity quickly, and securely. Other features include internal hydration sleeve and external tuck-pocket. The possibilities are endless. Available in the new proprietary "Doppelganger" illusionary camo pattern, reviewed previously (https://blog.gritrsports.com/best-of-shot-2017-from-the-editor/). MSRP's: Batwing Pouch $39.95 each, F1 Mainframe Pack $189.00.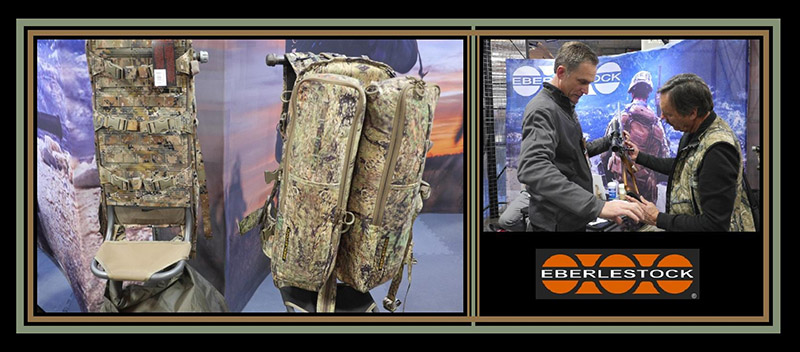 HERO OUTDOOR PRODUCTS
A comparatively new company, Hero Outdoor Products is growing fast by adding brands under its umbrella through acquisitions and partnerships – and they actually manufacture the products they sell! It was impossible to walk by the Hero booth at SHOT without noticing their stunning mallard decoys. Proudly carved in the USA by a top master carver, these decoys stand out with their fine detail, eye-catching yet durable finish and movable heads. Sold in packs of 6 or 12 decoys, the oversize Hero Alpha Series 6-pack includes 2 hens, 3 active drakes and a unique "Preener" drake (MSRP: $74.99). Hero's life-size Marsh Series 12-pack includes 4 hens, 5 active drakes, 2 Preener drakes and a "Swimmer Skimmer" drake that runs up to 4 hours on one AA battery (MSRP: $149.99).
The original T-Post Stepper is a lightweight tool that attaches directly to a stud on a steel t-post to assist fence crossing in a safe manner. It's easy to use and easy to carry with nylon holster, saving time lost searching for an easy way over or through barbed wire fencing. Simply secure the step on a t-post stud, and then safely step over the fence without risking injury from barbed wire. And, the nylon holster serves double duty as a protective grip for your hand on top of the t-post as you pass over. Unfortunately, I ripped holes in every pair of waders I've owned before discovering the T-Post Stepper! MSRP: $19.99.
Hero Calls include the Natural Born Killer (ducks) and Honker Hammer (geese) by Rick Hahne. Natural Born Killer is an easy blowing single reed call, advertised as "a ducks worst nightmare." MSRP's: $119.99 for Champion model and $39.99 for Reserve model. Honker Hammer is an easy blowing single reed call with flared end piece and tapered barrel that actually sounds like a goose! MSRP's: $129.99 for Champion model and $39.99 for Reserve model. I was also impressed by Hero Power2Go, a portable, solar-ready power station. Outdoorsmen (and women) need power, often in remote places, and Power2Go delivers 1800 watts of clean, safe power for everything from sensitive electronics to lighting to power tools, through 3 AC and 2 USB 2.0 ports. The 85 lb. mobile unit features foam-filled wheels, and its lithium ion powerplant is recharged with 16-volt AC wall charger or optional 200-watt Hero Solar Panel. MSRP's from $1349.00 for the basic unit in black, to $1999.00 with custom coloration and solar panel.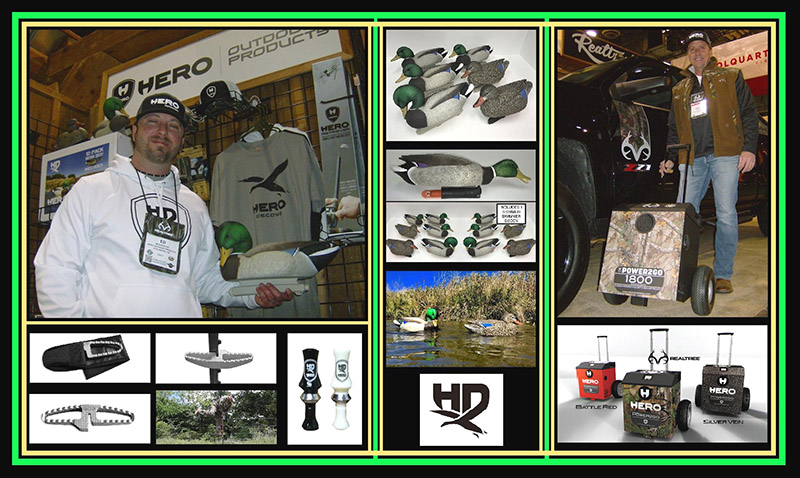 ARCUS HUNTING
ARCUS Hunting is building a strong portfolio of leading brands for hunters and archers including, Tink's, Dead Down Wind, Trophy Taker, Ramcat, Obsession Bows, and now Big Game Butter. This most recent addition to the line is a year-round attractant and nutritional supplement for deer. Its all-natural peanut-based recipe is unique, and contains minimums of 22% crude protein for antler growth and 44% crude fat for habit-forming taste. Add 5% crude fiber (max), salt and calcium carbonate, and you have an excellent combination for a healthy diet as well. Big Game Butter is easy to use – just dump an 8-pound pail on the ground in a pile, or spread handfuls of the granular material on trees and stumps to lure game with its powerful and appealing odor. The manufacturer believes Big Game Butter may prove more inviting than piles of corn or apples! Available in Spring 2017, flavors to include persimmon and apple as well as peanut. MSRP: $19.99 per 8-pound bucket.
Tink's, the #1 line of deer scents and lures in America introduced Gel Stream Technology, which applies 10-foot streams of long-lasting scented gel. Tink's Gel Stream Hot Shots will be available in #1 Doe-P Non-Estrous Gel, #69 Doe-In-Rut Estrous Gel, and Trophy Buck Urine Gel. Tink's Trophy Taker Gel line featuring this technology will include; "Relax" – a calming synthetic lure used near bedding areas, "Fight" – a gel that simulates a territorial intruder to attract aggressive deer, and "Heat" – a sexual response attractant for bucks during all phases of the rut. Forget to apply scent before climbing the tree? No problem, just shoot a stream or two of gel and you're covered! Available in time for deer season. MSRPs: $12.99 for Tink's Hot Shots, $14.99 for Trophy Taker Gels.
Dead Down Wind, a leader in scent control for outdoorsmen, announced a new Natural Woods family of products, designed to eliminate a broad spectrum of odors with the calming scent of the autumn woods. The product line (with MSRP's) includes; Laundry Detergent ($6.99 16 oz. / $13.99 32 oz.), Dryer Sheets ($6.99), Field Spray for in the field applications ($10.69 12 oz. / $14.99 24 oz.) and my favorite, Field Wash Cloths ($7.99).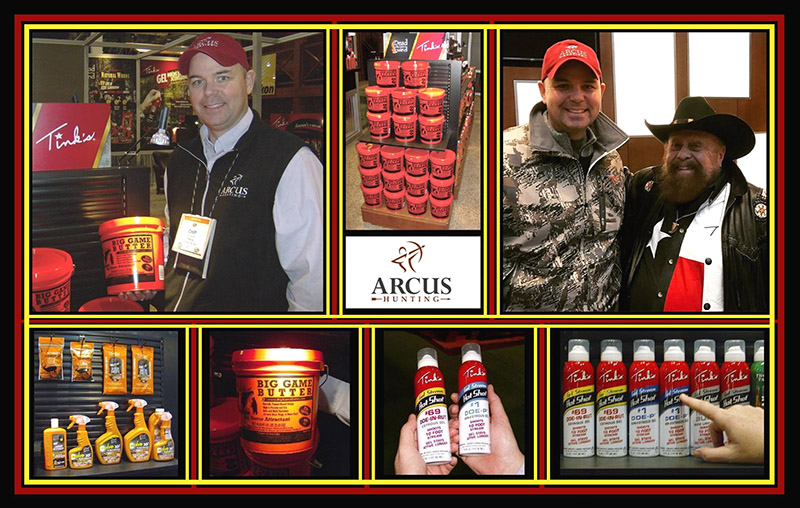 PLANO SYNERGY
The Plano Synergy conglomerate now includes more than a dozen companies which combined to introduce more than 100 new products at SHOT 2017. Can you say overwhelming? Thanks to help from Traditions Media advertising representative Jay Anglin, I was able to get a look at most of the new gear – cases from Plano, packs from Tenzing, decoys from Avian-X including stunning new specklebelly geese decoys, a dozen new crossbow offerings from Barnett, a couple dozen new calls from Flextone, and the amazing new "Supernatural" ground blind from Ameristep that disappears into the surroundings like no other. Whew!
In addition to the Supernatural, a couple other new products warrant special mention. The new Flextone "Thunder" turkey decoys immediately caught my eye. Wild turkeys are wily critters, no doubt with more brain power than the rest of the bird world combined! Mature gobblers will learn to recognize the same old decoys, so it pays to upgrade. The new Thunder line, with blow-molded, one piece construction, true-to-life painted feathers and lifelike posture offers a realistic and affordable upgrade option. MSRP's: Creeper gobbler ($49.49), Chick in both feeder and upright models ($39.99), and Jake 1/4 Strut ($49.95). Wildgame Innovations new Vanish attractant received lots of attention. It's 17% protein, 14% fat formulation produces an enticing aroma, and it looks like dirt so it's practically invisible to the human eye. MSRP: $17.99 per 10 lb. bag.
Bloodsport came to the party with Chisel Tip and Extreme models added to their line of devastating broadheads. The reliable and accurate Gravedigger hybrid is now available in an Extreme Chisel Tip model, with two 1.25" fixed blades plus two 2.25" mechanical blades with patented blade retention system and no rubber bands or o-rings. The Night Fury Extreme mechanical features the same cross-opening blade design as Gravedigger that require minimal energy to open, but without the fixed blades. Nitefall Chisel Tip hybrid features 1-inch fixed and 2-inch rear-deploying expandable blades in a patent pending design. The unique High Voltage 3-blade features Chisel Tip and 420 stainless blades that are curved significantly, along with a 416 hardened steel ferrule and field-point accuracy. Finally, the new Gravedigger Extreme Cut-On-Contact features the 1/2-inch larger 2.25" mechanical blades with a 1/4-inch larger COC fixed blade, and 7075 Aircraft Aluminum ferrule.  MSRP's: $39.99/3-pack of each model.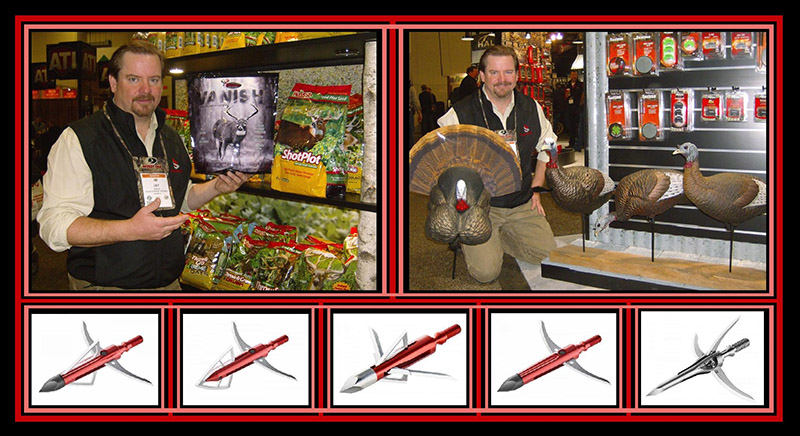 SPYPOINT
Last season I spent countless hours and no doubt hiked a hundred miles checking trail cameras prior to my public land elk hunt. Spypoint now has an affordable solution to this laborious and time-consuming problem with their new LINK-EVO cellular trail camera and new cellular plans. This camera features 12 megapixil photo and 720p HD video capability, 0.3 second trigger speed with 80 foot detection range, and multi-shot, continuous and time-lapse modes, with fast 4G photo transmission. Spypoint also introduced their new LINK-S solar cellular trail camera. With built-in solar panel and rechargeable battery, visiting the location after setup is unnecessary! This camera has all the features of the EVO, plus a built-in 2" viewing screen (if you do visit), remarkable 0.07 second trigger speed, GPS Geotag and super-fast LTE photo transmission. Both cameras are fully configurable with the free app, and come with a pre-activated SIM card, 30 days of free unlimited photos and a two year warranty. MSRP's: LINK-EVO $349.99 and LINK-S $599.99.
Also new for 2017 is a FREE monthly plan available in April that includes transmission of 100 photos per month! This insures that LINK series cameras can be used year round at no extra charge! Other monthly plans from a variety of providers are available, including the "Annual" (250 photos/month @ $5.00/month), "Annual +" (unlimited photos and photo history @ $15.00/month), and "Hunt" (unlimited photos and unlimited photo history for 3 months only @ $25.00/month). Heck, I spent more than that last season on gas and boot leather…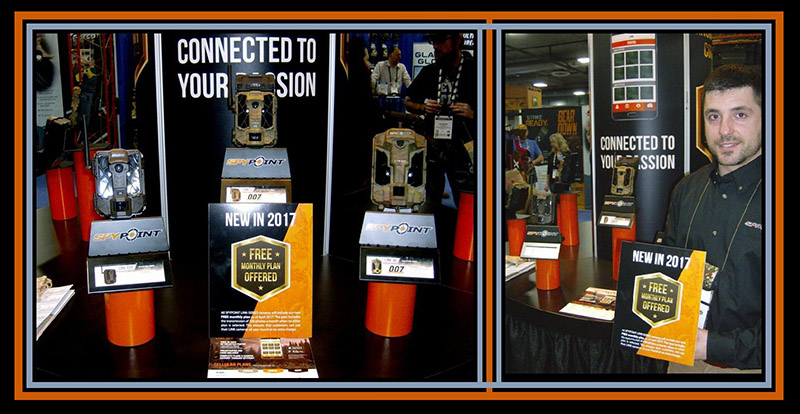 SKULL HOOKER
Let's face it… hunters are collectors. Some collect only the experiences, or photographic images of same. But most of us collect mementos from the hunt that often include some parts of the animals hunted, usually preserved in the form of artful wildlife taxidermy. If you're like me you have probably run out of available wall space, and now opt for more European-style skull mounts than full-featured shoulder mounts. Several years ago Skull Hooker capitalized on this trend with their original Little Hooker and Big Hooker wall mount brackets (I have several!). Next came the Table Hooker bracket for table, desk, shelf or any flat surface display. The latest addition to the Skull Hooker line introduced at SHOT is called Trophy Tree. This is a unique, versatile and highly adaptable mounting system that maximizes corner space by allowing Euro-mount skulls of multiple sizes and species to be displayed vertically on a sectioned pole. Constructed of sturdy steel with attractive inlaid designs in the weighted base, Trophy Tree is strong enough to handle antlered and horned skulls of all sizes. Each pole is powder-coat finished in graphite black and contains 16 equally spaced narrow slots. Five mounting brackets and five 14-inch pole sections are included, so small and large species and/or skull capped antlers can be displayed. Additional brackets and additional poles (to extend display height) will be sold separately. Available in summer 2017.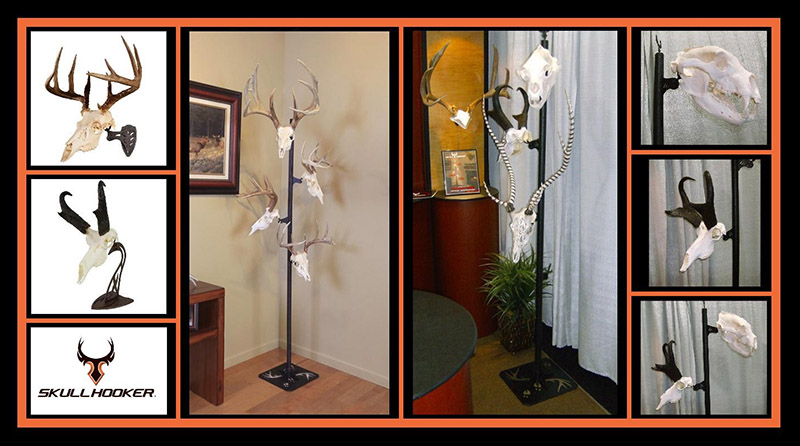 INTELISCOPE
Too be perfectly honest, when I receive the press release from Inteliscope announcing their latest application of thermal imaging technology designed for tactical military applications to smartphones for sportsmen, I wasn't terribly excited. After all, I write mostly about hunting and hunting related products. Second morning at the show I walked out of the media lounge and smack into Jason Giddings, Inteliscope inventor and CEO. He was carrying a compound bow with a smartphone mounted to the riser just above the arrow rest, running the company's thermal imaging app. Immediately I thought of friends in the east that hunt racoon and possum pests at night, and wild hog hunters from Texas to Florida and parts north who are switching to bows – often at night – so as to not educate these highly intelligent animals to the report – and muzzle flash – of guns. Thwack! The demo was on… and I was impressed!
Inteliscope is the only multi-use rifle mount and app that provides a full-featured heads-up display, video camera, and inexpensive thermal camera attachment for the shooting sports industry. Along with PRO+ mounts, additional products include apps for Apple and Android to operate a SEEK Thermal camera enabling full thermal nightscope functionality, for under $500. Thousands of other apps, such as mapping and bullet drop calculators, are compatible with Inteliscope. Use the computing capability of your smartphone with your rifle… and now with your bow! The company's new bow-mounted thermal scope is claimed to be the only one in the world. Note: A nice demo is available on their website: https://inteliscopes.com/. MSRP's: New Archery Adapter $78.00, and PRO+/SEEK Archery Bundle for Apple or Android $575.00.