By Tony Martins
This year's annual SHOT Show was the biggest and best ever, with more than 1600 exhibitors, 12.5 miles of aisles to access 13+ acres of exhibit space, and attendees from all 50 states and 100 countries. There were 450 products on display in the New Product Center and hundreds more on the show floor. Here's a review of some of the best new products for hunting.
CROSMAN / BENJAMIN
One of the hottest new products for 2016 is the "Pioneer Airbow" from Benjamin, the premier hunting brand of Crosman. Social media was set ablaze when the company released video a week before SHOT showing professional hunter Jim Shockey downing a 2000-pound bison with this remarkable new weapon. Based on the Bulldog .357 caliber Pre-Charged Pneumatic airgun introduced last year, the airbow has been adapted to shoot arrows rather than slugs. And shoot them it does… at a blistering 450 feet-per-second, arrow after arrow, with almost unbelievable accuracy. I've been privileged to test both the Bulldog and the Pioneer for Crosman, and can attest that accolades the airbow is receiving are well deserved.
With a full 3000 psi air charge, the airbow fires up to eight full-size 375 grain, 26-inch arrows at virtually identical velocity due to an internal pressure regulator. Since arrows are not pushed by a string there is no "archer's paradox" (arrow oscillation), and these factors combine to produce remarkably consistent point-of-impact, even when the airbow is canted. Legal for hunting in many states as an airgun, Crosman has set sights on the crossbow market, which will require regulatory approval in most states. Nevertheless, the airbow is faster, more accurate, easier to handle and use, and safer than a crossbow – in other words, "crossbow functionality with performance superiority." Its compact profile and top mounted cocking lever requiring only 2 pounds of force means virtually anyone can handle the airbow. Its ease of use and the absence of a crossbow cocking rope will appeal to tree stand hunters, and these features also make it particularly well suited for both disabled hunters and others with physical limitations that preclude crossbow use.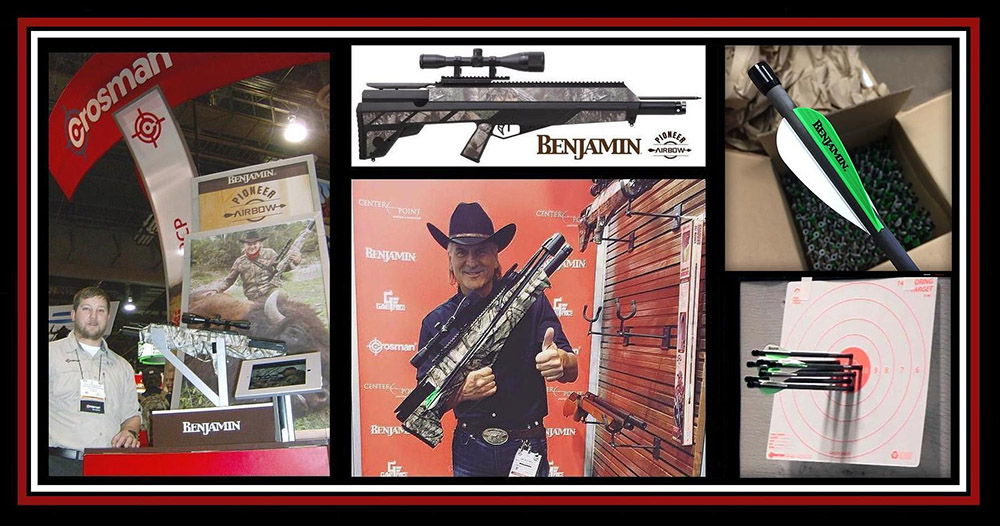 Shipment of the Pioneer Airbow should begin in April, but Crosman is accepting advance orders, and it may take the company awhile to fill them all. The airbow will be delivered with a 6×40mm CenterPoint scope with custom MTAG reticle, a canted base providing an additional 20 MOA of adjustment, custom sling, 3 carbon arrows with nano ceramic Victory ICE coating, quick-detach quiver, and a camo sticker package for personalizing the black synthetic housing. Nineteen inches of Picatinny rail provide lots of room for additional accessorization. Pre-Order Price: $849.00
AIR VENTURI / SAM YANG
As an experienced airgun hunter, it's probably no surprise that the new "Wing Shot PCP" manufactured by Sam Yang and imported by Air Venturi made my Best of Shot listing. This .50 caliber pre-charged pneumatic smoothbore is the first to offer airguners the option of choosing either slugs, or special .50 caliber airgun shotshells. This is a beautiful airgun! With hardwood stock, engraved receiver, and bolt action, the Wing Shot is effective for close-range wingshooting, as well as small- and large-game hunting. Functioning as a shotgun, the Wing Shot pushes a small charge of No. 8 shot (120 grains, or a little more than 1/4 oz. – about half the payload of a .410 shotshell) at 1130 feet-per-second (fps), with 360 foot-pounds of energy (fpe). This setup produces consistent 12-inch patterns at 20 yards, suitable for upland birds and bunnies. As a rifle shooting a .50-caliber 145 grain slug, it generates about 250 fpe at 760 fps – more than enough to dispatch coyotes, javelina and small hogs. Filled to a pressure of 200 BAR (about 2900 psi), this 7.5 pound gun will deliver 5 consistent shots. Recharging with air is simple, thanks to an on-board Foster quick-connect fitting. The Wing Shot also features a crisp two-stage trigger, beaded front sight, rubber buttpad, and screw-in choke. Hunters can choose from a variety of .50-caliber slugs, shells pre-filled with No. 8 or No. 6 shot, or empty shotshells for do-it-yourself filling. MSRP: $850.00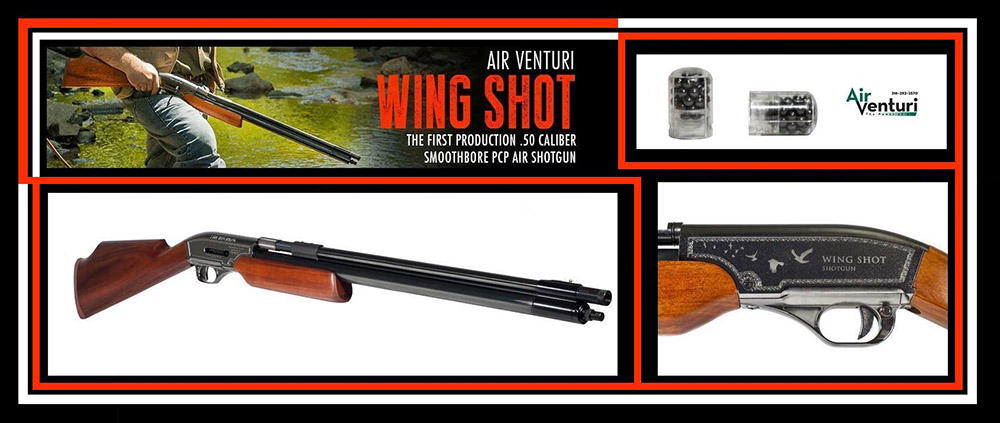 MOSSBERG
The hits just keep on rolling from Mossberg, and a trip to their booth at SHOT to see their new offerings is always a highlight. This year the new Pro-Series Shotguns caught my eye, with new Sporting and Waterfowl models. Inspired by the JM Pro-Series competition shotgun developed in collaboration with World Champion Jerry Miculek, a number of features that are typically found only in custom guns have made their way into the 930 Sporting, 930 and 935 Waterfowl autoloaders. For example, premium finishes facilitate reliability and improve performance, and a special boron nitride coating is used on the gas piston, piston rings, magazine tube, hammer and sear. This coating prevents corrosion and helps with cleaning. Furthermore, the shell stop, bolt slide and elevator receive additional metal finishing, reducing friction for faster loading and follow-up shooting. Both Waterfowl models feature an engraved receiver, Mossy Oak Shadowgrass Blades camo finish and stainless steel recoil spring to withstand the elements, fiber optic front sight, set of 3 choke tubes, and shims to adjust the stock drop-at-comb for a custom fit. MSRP: $847.00 for the 930 Waterfowl and $931.00 for the 935 Magnum Waterfowl.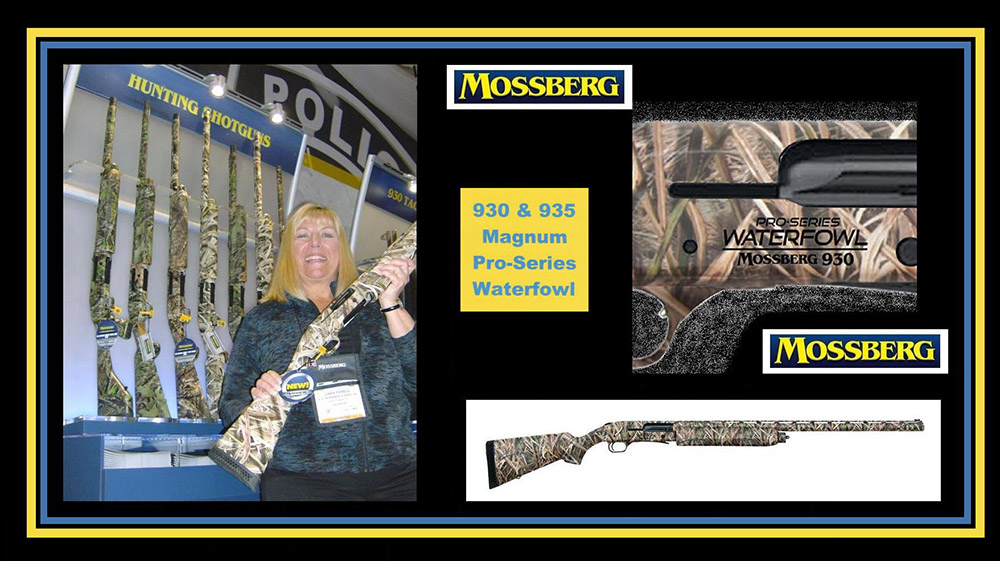 BROWNING AMMUNITION
Browning's new line of ammunition made its debut at Industry Day at the Range to open the 2016 SHOT Show. Members of the media in attendance had a chance to test the new ammo, and performance was rated excellent throughout the entire line by enthusiastic scribes. "Browning Ammunition is designed to the highest standards of innovation, precision and technology," according to the press release, and it did not disappoint. Distinctive and stylishly presented in black & gold sporting the famous Buckmark, the line includes carefully selected loadings for centerfire rifle, shotgun, handgun and rimfire. The hunting group includes BXR Rapid Expansion rifle with Matrix Tip designed for use on deer and pronghorn, and BXC Controlled Expansion rifle with Terminal Tip designed for use on bigger game like elk, moose and bear. BXR will be available in .243 Win., .270 Win., 30-30 Win., .308 Win., 30-06 Spr., .300 Win.Mag. and .300 WSM. BXC calibers include .270 Win., 7mm Rem.Mag., .308 Win., 30-06 Spr., .300 Win.Mag. and .300 WSM. BXD is the Extra Distance shotshell, in both Waterfowl and Upland offerings. Waterfowl features high velocity, an aerodynamically stabilized wad and premium plated round steel shot, in five 12 ga. (#4, #2 and BB) and one 20 ga. (#2) loading. Upland features high velocity and nickel plated lead shot for tighter patterns, in 12 and 20 gauge loadings of #5 and #6 shot (3 each). Rounding out the hunting ammo line are a trio of BPR Performance Rimfire offerings, with fragmenting, high velocity hollow point and black oxide coated round nose bullets. BXP X-Point Personal Defense and BPT Performance FMJ handgun loadings for .380, 9mm Luger, .40 S&W and .45 Auto, and BPT Performance Target shotgun loads complete the new Browning line.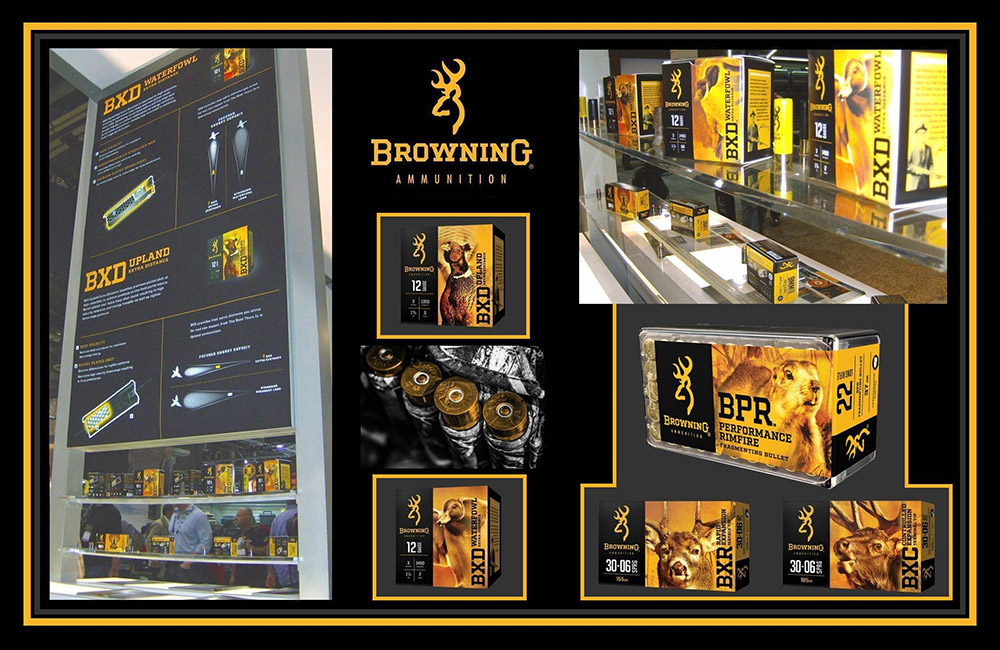 RANDOLPH ENGINEERING / RE RANGER
It's rare nowadays to see anyone at a shooting range without protective eyewear, but I often see hunters in the field taking unnecessary risk with eyes unprotected. Randolph Engineering (RE) is a leader in the field, manufacturing sunglasses, optical frames and shooting eyewear in the US for more than 30 years, and supplying sunglasses to the US military and air forces worldwide. New generation models of the popular Falcon Sport and Falcon Pro glasses were presented at SHOT. The 2016 Falcon Sport features a new aerodynamic lens shape that covers a larger overall surface area of the face and creates a larger field of view. I particularly like that visual distractions through the nose bridge are minimal, and this is assisted by the new soft silicon filament brow bar, which also improves ventilation. And, with the new "minimalist" nose piece, air-filled silicon nose pads and bendable "flexi-tips" ear pieces, the Falcon Sport is adjustable for a custom fit and added comfort. The Falcon Pro 2.0 has a stylish new lens shape, as well as the new nose piece and nose pads. The frame is painted with RE Ranger's corrosion, chemical and weather resistant CombiCoat – a durable and resilient ceramic coating. Two new and revolutionary NexPC high-impact lenses also made their debut. The MAX-Light was designed for enhanced performance in low light or night shooting under fluorescent lights. I see an excellent field application for this lens while hunting during first and last light. The new Modified Brown lens was designed to enhance orange target visibility, while lessening eye-strain under bright sun. Both lenses contain blue blocker contrasting properties and a Hydra-Coat finish to prevent fogging and repel rain and dirt. MSRP: Falcon Sport $239.00, Falcon Pro 2.0 $229.00, MAX-Light and Modified Brown lenses $69.00-$99.00.