Last Updated on
Beretta is known for its multifaceted proficiency. A brand with a century-old history of firearm production excels in manufacturing a wide range of products for all firearm-related activities, hunting being only one of them. Hunting apparel marked by Beretta's logo has long become a guarantee of comfort and performance. Since closet renewal is a year-round activity that doesn't need to be tied to hunting seasons, we've drawn up a review of some of the most attention-worthy Beretta jackets you get on Gritr Sports in 2023. Here they are, the game-changers.
Table of Contents
Gunner Field Jacket
Trailhead Thermal Pro Jacket
Breakaway GTX Jacket
Butte Softshell Jacket
Wingbeat Insulator Jacket
Beretta Gunner Jet Black Field Jacket
We begin our product review with a jacket that makes for a finest choice for the start of the hunting season. The Beretta Gunner Field Jacket takes after classic 1940s military jackets while boasting a number of features that make it a real asset for hunters.
The Gunner Field Jacket is designed for the time when the chill starts to take hold, but it can get you through colder days equally well. Light insulation, together with thermal padding, facilitates the heat-retaining process while helping the jacket keep its shape. The warmth-retention properties are further enhanced by nylon and flannel lining that also bolsters the jacket's wind protection capabilities. The other element this jacket confronts well is water. The special coating makes the surface of the jacket highly water-resistant, so both rain and snow can only hope to become a real hindrance.
The jacket's military heritage is represented in several functional features. The most obvious ones are the zippers covered by over-flaps with pressure buttons and a plethora of pockets for storing anything you might need. There are side entry chest pockets, two large front cargo pockets with flaps and eyelets, side entry handwarmer pockets behind cargo pockets and two inner zipped pockets. There is even a Napoleon zipped pocket, in case you need to carry a paper or two on your person (Hunter Education Certificate, here we go).
Adjustable jacket cuffs, equipped with snap buttons, are lined with corduroy, and so is the collar. Beretta Gunner Field Jacket is best suited for active hunting, with a raglan-cut-shoulder design safeguarding the freedom of your movement. This jacket features Beretta's renowned braces that allow for wearing the jacket in a back-pack manner. That comes in very handy when the weather pleasantly surprises you with a warm change of demeanor. However, if you are a fan of stand hunting, you might want to take a look at Beretta's more heavily insulated jackets.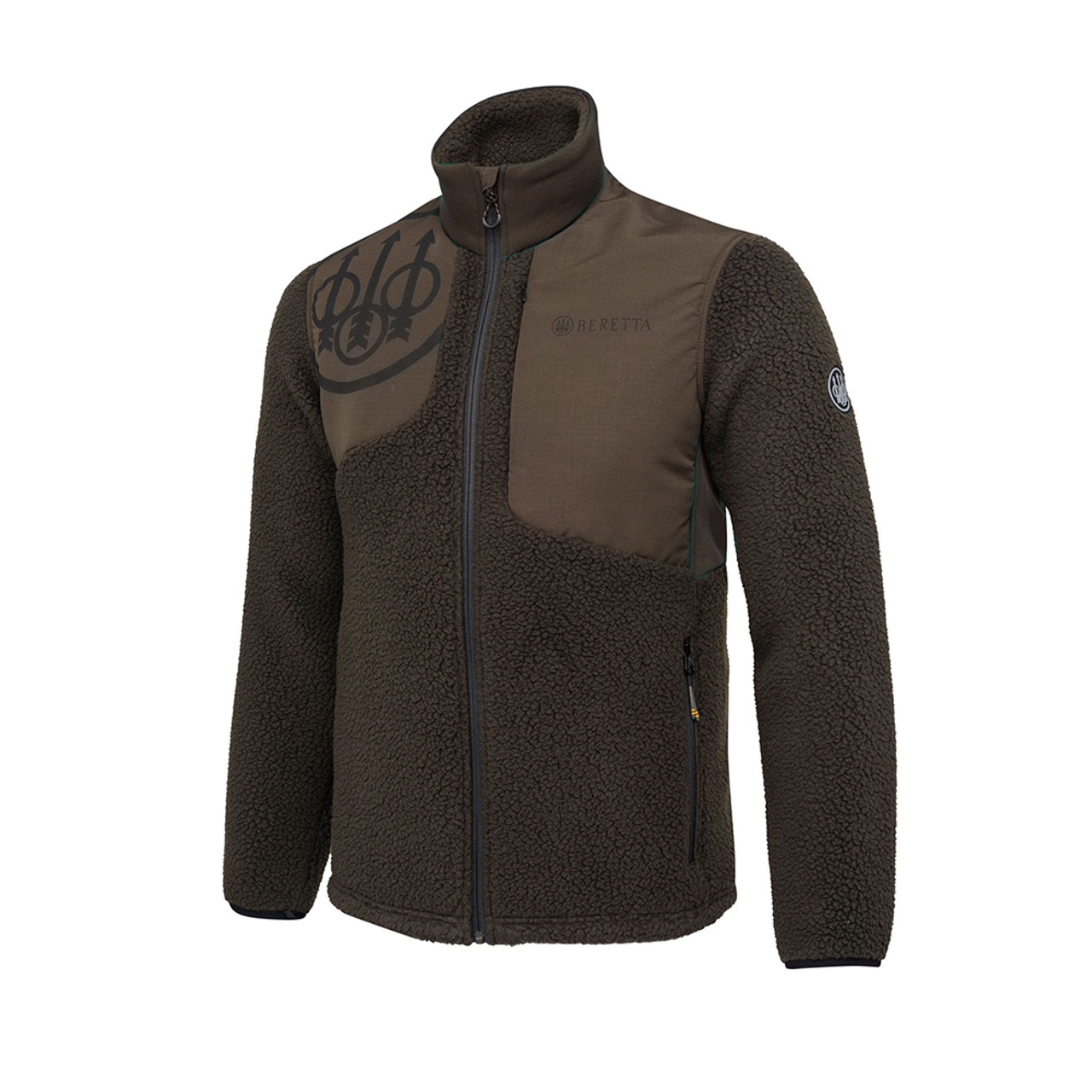 Beretta Men's Trailhead Brown Bark Thermal Pro Jacket 
If for some reason fleece hasn't won you over yet, the Beretta Trailhead Thermal Pro jacket has all chances of correcting this circumstance. Few materials can beat the versatility of fleece. It is a great material for stand-alone fall jackets and mid-layer jackets for freezing winter hunts. And Beretta's Trailhead features something even better than regular fleece. The Thermal Pro fabric takes the performance of synthetic materials and wraps it in a warm and comfortable form of classic fleece. This synthetic fleece is fast drying, pill-resistant, highly durable and offers significant warmth without adding bulk. Is there anything else you might want from a mid-layer? The Trailhead Thermal Pro jacket is a fantastic dressing option for mild and chilly weather due to its versatile thermoregulatory capabilities and lightweight design.
Fleece is a major, but not the only reason that makes this jacket worthy of your attention. The chest area features abrasion-resistant inserts that increase the overall durability of a jacket while proudly bearing the marks of Beretta's quality. There are two side pockets and one chest pocket, all featuring YKK zippers. A drawstring embedded in the bottom of the jacket ensures a snug and secure fit. Equally suitable for stand hunting and stalking, the Beretta Trailhead Thermal Pro jacket is a true boon for every hunter.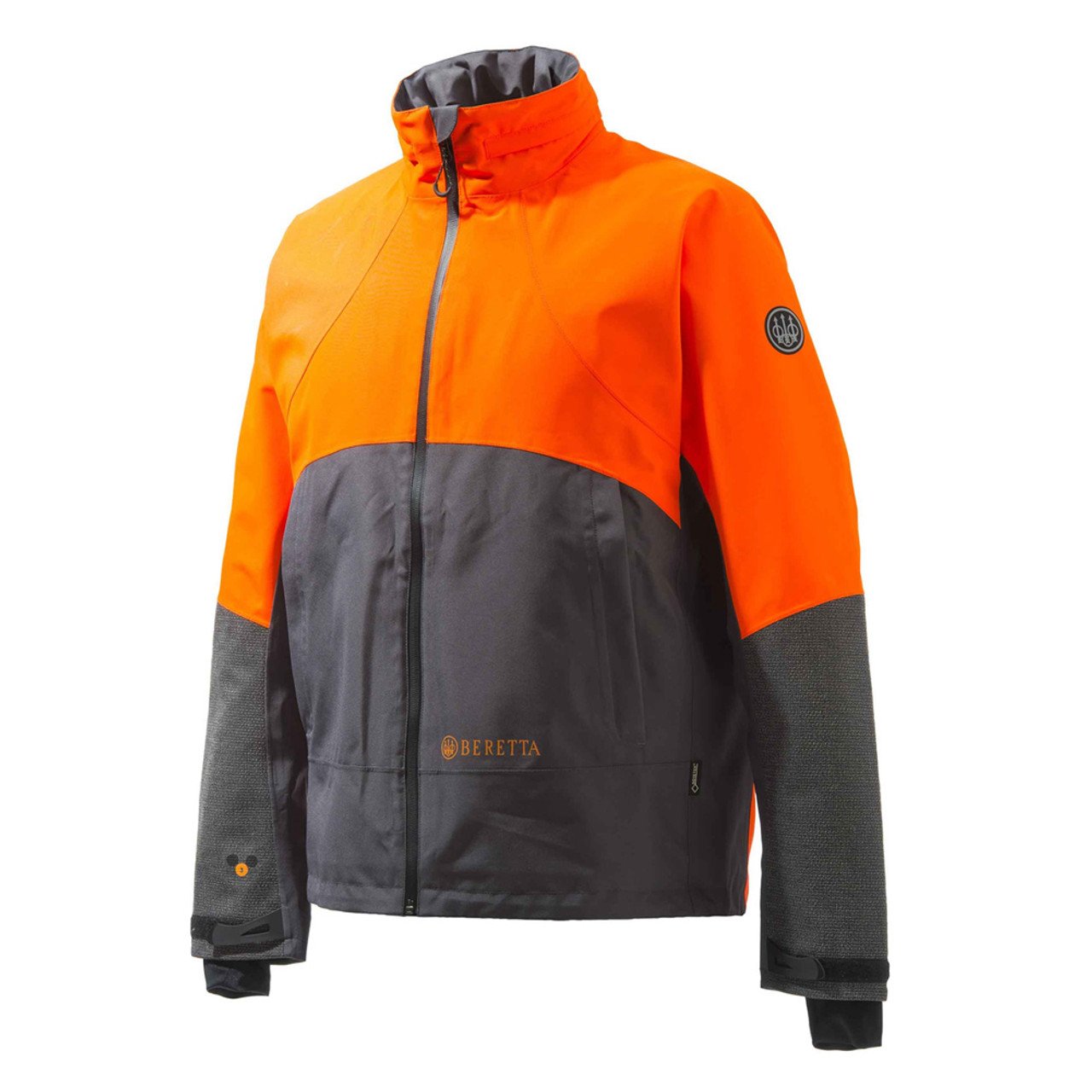 Beretta Breakaway Charcoal/Blaze Orange GTX Jacket
Blaze orange elements are well-known to hunters all across the U.S. for their life-saving mission. Hunters are required to cover a fixed area of their body with blaze orange garments during certain periods or throughout whole hunting seasons. Beretta took this element, iconic for deer hunters, and implemented it into their Breakaway GTX jacket. However, this garment is so much more than a mere safety beacon in the forest gloom. The renowned GORE-TEX membrane makes this jacket a must for everyone who's in the market for all-in-one performance outerwear. GORE-TEX is known for its exemplary waterproof and windproof qualities as well as superior breathability. 
Protection from the elements is not the only line of defense this jacket offers. Its physical durability doesn't lag behind. Synthetic high-density fiber exterior and reinforced forearms ensure the jacket's resistance to physical damage. No longer will briars, brambles and thick grass leave their marks on your gear. These two lines of defense ensure the jacket can fend off attacks of both time and nature, making the Beretta Breakaway GTX jacket a beneficial long-term investment.
This jacket does have some features in common with the Gunner Field jacket. It is too endowed with Beretta's signature removable braces for carrying a jacket as a backpack, and the raglan shoulder design makes both jackets particularly suitable for pro-active hunting. However, pre-shaped sleeves and Velcro-adjustment cuffs bring Breakaway GTX's mobility to the next level. 
As all other respectable Beretta jackets, this model features several pockets: two zippered front pockets and one inside pocket with Velcro closure. The Breakaway GTX jacket also has an emergency rain-protection means in the form of a packable hood. In short, the Breakaway GTX jacket is a multidimensional solution for active hunters.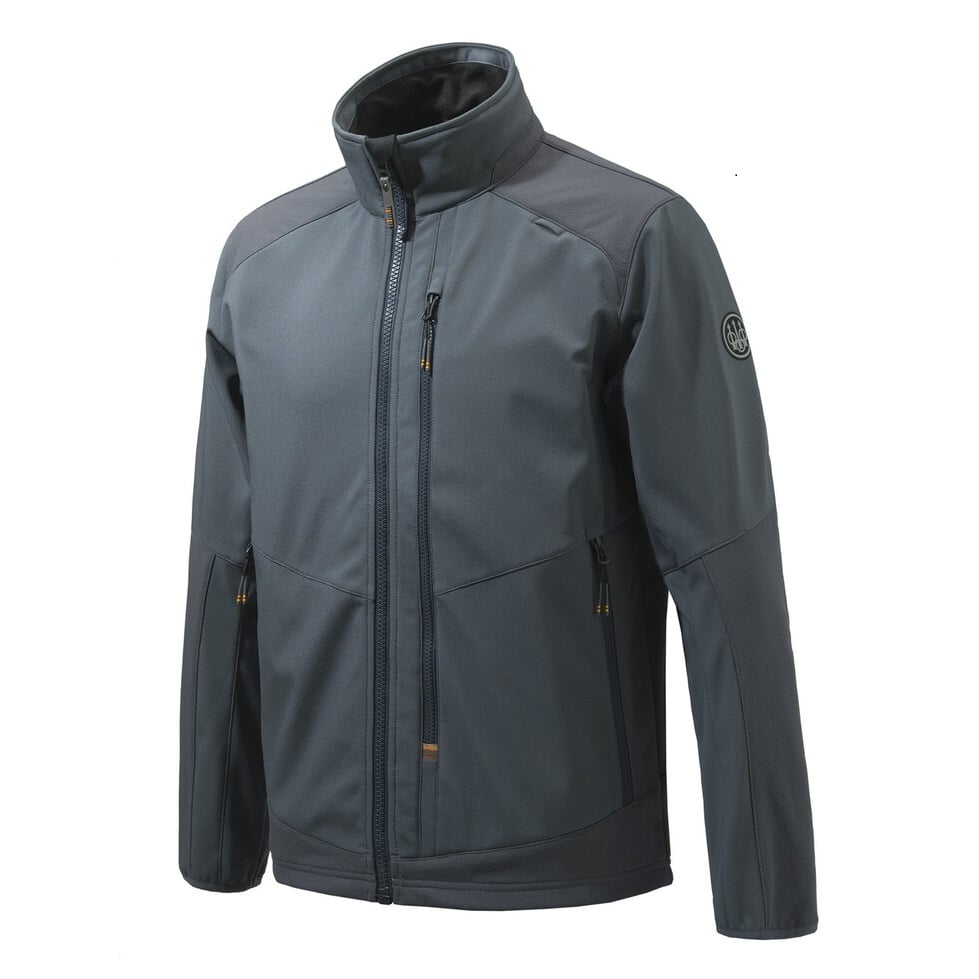 Beretta Men's Butte Ebony Softshell Jacket       
The Beretta Butte Softshell jacket can't boast any eye-catching details, but don't let its simple design fool you into thinking it doesn't deserve your attention. like other Beretta jackets, this one possesses all qualities needed to enter the ranks of high-performing hunting jackets. Designed for mild weather conditions, it features the brand's proprietary membrane, BWR, that makes the outer layer wind resistant. The exterior of the jacket is also treated with the brand's Durable Water Repellent, so it can heroically withstand rain both drizzling and moderate.
We've already mentioned several of the reviewed jackets being lightweight, but this model really takes the cake. Lightweight, stretchy, and breathable, it is perfect for game trackers and pursuers. The fit is customizable with drawstring regulation at the bottom of the jacket and elastic bands on its wrists. 
The pockets are also plentiful. There are inner pockets with zips and velcro closures, regular front pockets, and a dedicated radio pocket with a hole for the antenna. With durability sufficient to withstand the assaults of thorns and branches, the Beretta Butte Softshell jacket looks equally in place in forest and urban landscapes.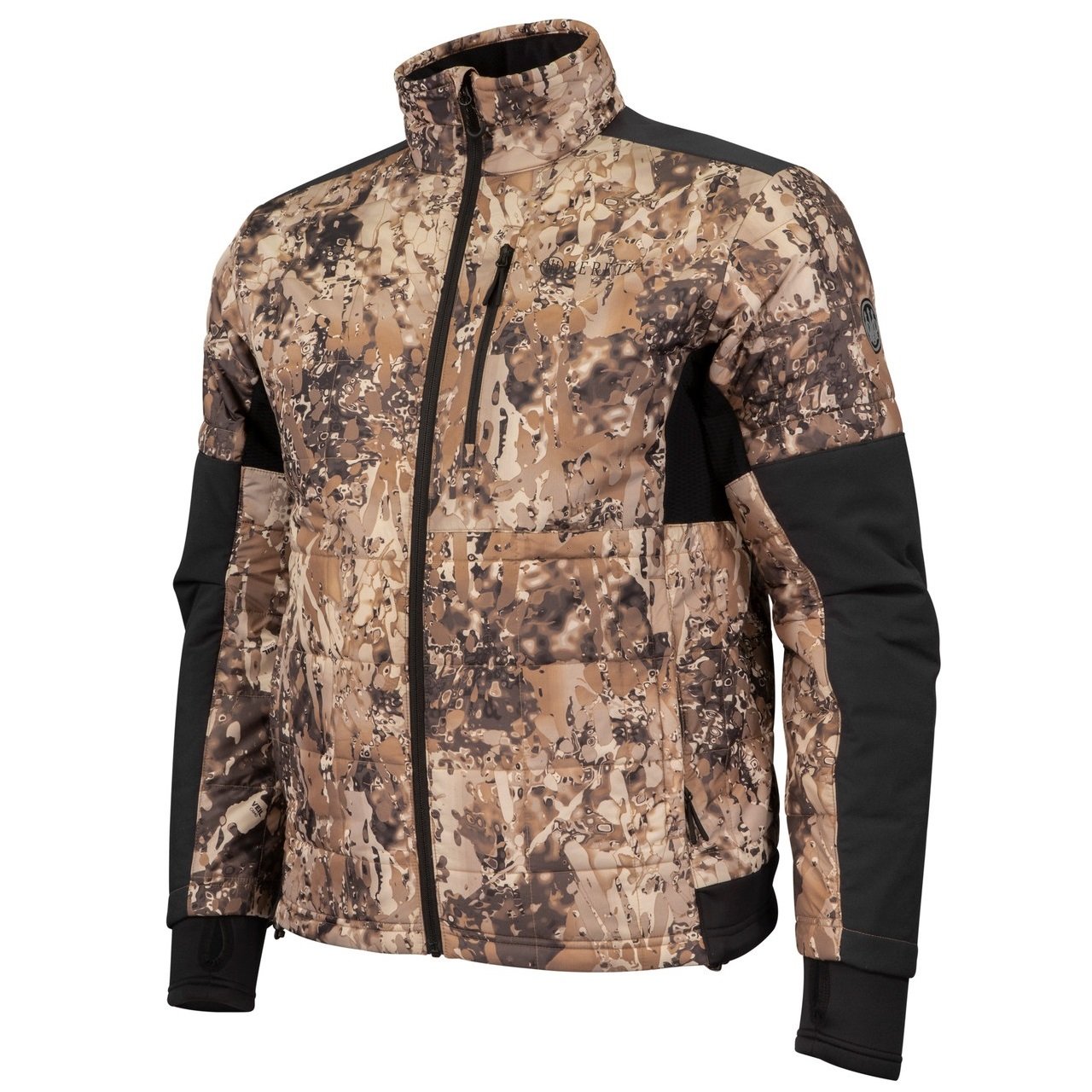 Beretta Men's Wingbeat Veil Avayde Insulator Jacket
All the waterfowl hunters reading this article will likely appreciate our concluding jacket. A mere look is enough to understand that it is destined for marshes, flooded timber, and boats, though city terrain could also make for a fine background.
The constant proximity of water imposes certain requirements a jacket should meet, and the Beretta Wingbeat Insulator jacket conforms to all of them. First, protection from the elements. Wind tends to blow harder near bodies of water, so a waterfowl jacket needs to be resistant to wind. The Beretta Wingbeat Insulator jacket takes this one step further and provides 100% wind protection thanks to Gore-Tex Infinium Softshell. The same feature makes this jacket highly water resistant, so the elements shouldn't be a problem.
Next comes warmth retention. Again, the temperature near the bodies of water is lower than usual, not to mention the fact that the waterfowl season begins in the fall. This jacket is insulated with PrimaLoft Silver known for its exemplary heat retention qualities. To ensure insulation is sufficient but not excessive, Beretta made this jacket highly breathable.
The complementary features are ample: the arms and shoulders are reinforced with anti-abrasion stretch inserts that bolster the jacket's ruggedness and provide greater freedom of movement. The drawstring regulation in the bottom of the jacket ensures a more tailored fit, while light neoprene calves make sure your palms remain warm. Unlike all the mentioned Beretta jackets, this one only features a single chest pocket spacious enough to store some of the necessities, but an additional container is a must.
Our Score For BERETTA Jackets
Warmth -

90%

Weight -

70%

Water Resistance -

80%

Comfort -

95%

Features -

90%