.40 S&W Pistols For Sale
Visit Our Store
Every firearm user has a caliber they enjoy shooting more than others. It is not necessarily about performance or stopping power. Sometimes, it is just the "feel" that is hard to put into words, but that is very tangible and clear to you. Instead of breeding discord and fueling disputes on which caliber is the best, we cherish every one of them. We at Gritr Sports believe that every firearm may occupy the place of the most beloved one. For that reason, we never rush to put a label of the "best .40 pistol" on some handgun and promote it as the superior of its kind. There are hundreds of worthy 40 caliber pistols out there, all more or less fitting for these or that situation. And we are here to show you some of them.
The Notion of Best
Whatever field you cast a glance on, each of them has its own difficulty in defining the word "best". Firearms didn't escape this fate either. What features would one find in this mythical best 40-cal pistol? Is it the most comfortable to hold? Well, people with differently-sized hands will have different opinions on that point. Or is it the most precise one? You know better than us that precision comes from the shooter, while firearms only channel it. Is it the most sleek-looking one? Beauty is in the eye of the beholder. With everything said, we still don't imply that every single gun is the best gun – some models definitely stand out from the crowd. The best-rated 40 caliber pistols all have something in common, be it extra safety features or improved grips. We've compiled a list of the best 40 cal pistols in 2022, keeping in mind that people need handguns for different purposes. That's why we included both lightweight pistols for concealed carry and heavier handguns fit for home defense or competitive shooting. See for yourself.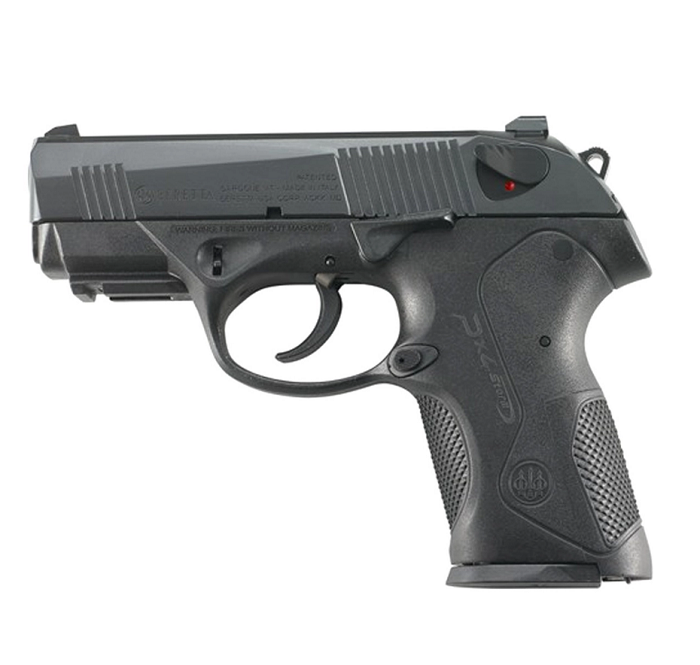 BERETTA PX4 Storm Compact
Action: Double/Single
Frame Material: Fiberglass Polymer
Barrel Length: 3.2"
Capacity: 10rd
We open our list with the best .40 S&W pistol for concealed carry. PX4 Storm Compact from an Italian maestro of firearm making Beretta lives up to its name, being the most compact handgun on the list. With the overall length not exceeding 6.8", this pistol beats other contenders in being of the most comfortable size for concealed carry. The 10-round is the most optimal cartridge capacity for everyday carry that doesn't give you the short end of the stick by limiting the number of rounds you can shoot while not requiring a long mag well. The rotary barrel system ensures that recoil dissipates radially, exerting less torque to you and allowing for faster follow-up shots. The PX4 Storm Compact is a modular pistol, which means you are free to customize it however you see fit. This Beretta .40 S&W features interchangeable backstraps allowing you to adjust the grip according to your preference. The PX4 Storm Compact is an either-hand pistol with an ambidextrous slide lock and safety and reversible magazine release. Its double-to-single action allows you not to worry about cocking the hammer to shoot, which might prove very useful in stressful situations like self-defense scenarios. Even though perfectly suitable for concealed carry, the PX4 Storm Compact also shines at shooting ranges. It is like a two-for-one deal with no catch behind it.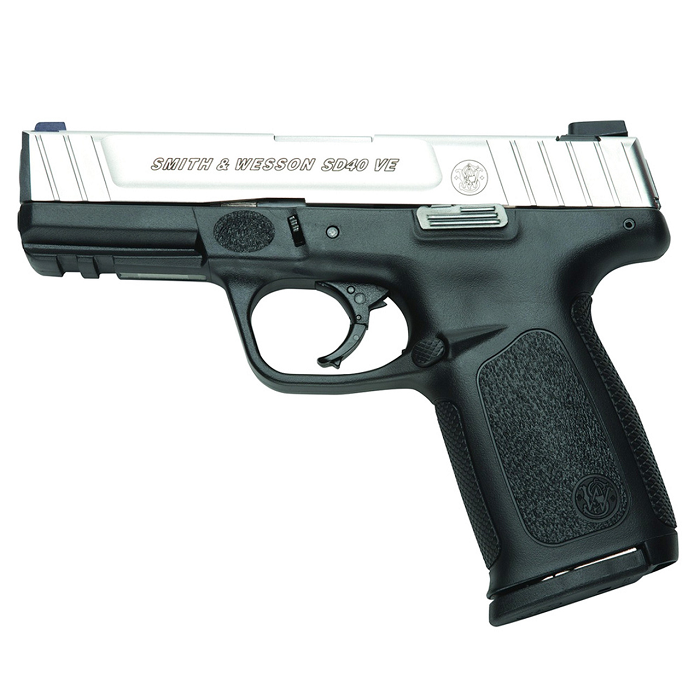 S&W SD40VE
Action: Striker Fire
Frame Material: Polymer
Barrel Length: 4"
Capacity: 14rd
The SD40VE is the creation of the same brand that developed the .40 S&W cartridge itself. Smith & Wesson endowed this pistol with features that every quality firearm enjoyer can appreciate. At the same time, the SD40VE is a novice-friendly handgun that might become a great guide for those who are taking their first steps on their shooting path. The striker fire action brings users lighter trigger pulls, and SD40VE's self-defense trigger makes them even more consistent from the first round shot to last. The front and rear sights facilitate target acquisition, helping beginners build accuracy and avid handgun users shoot faster. The standard Picatinny-style rail allows mounting accessories like tactical light or reflex sights. With the S&W SD40VE's ergonomic textured grip, you can rest assured this pistol will never slip out of your hand. Those are 22.7 oz of reliability and performance.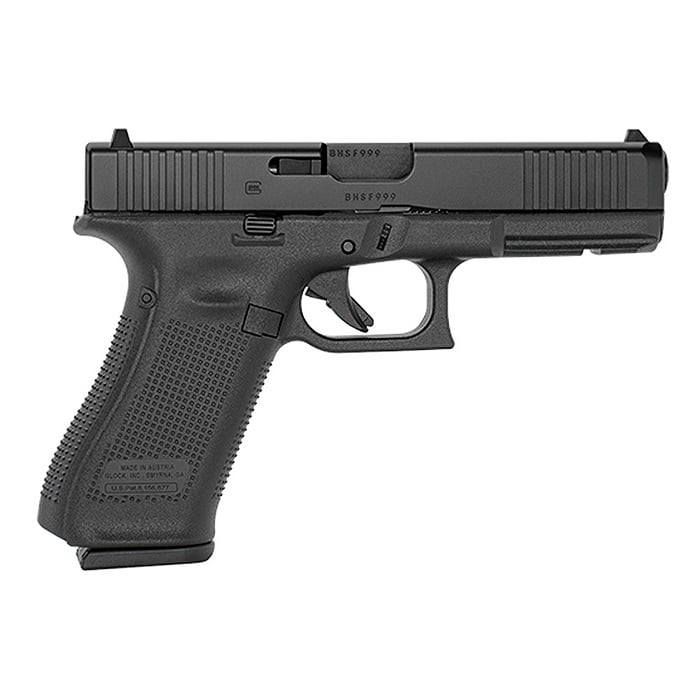 GLOCK 22 Gen5
Action: Double Action Only
Frame Material: Polymer
Barrel Length: 4.49"
Capacity: 15rd
Glock is a true artist of handgun manufacturing, and this model is a proud representative of its fifth generation of polymer-framed pistols. Glock 22 was one of the first mass-produced .40 S&W pistols, widely adopted by law enforcers. Retaining the benefits of earlier generations, Gen 5 Glock 40 caliber pistol offers new features that bring user experience to a whole new level. Coated with nDLC (diamond-like carbon) for ultimate protection against scratches and elements, this pistol features a Glock Marksman Barrel with advanced rifling. The Flared Magwell allows for even faster reloads by decreasing the precision needed to insert a magazine. The ergonomics of the Gen 5 Glock 22 are further improved by a smoother trigger design and removed finger grooves, which allows better accommodation of all possible hand sizes. With better handling and improved robustness, this Glock 22 .40 S&W continues the legacy of quality handguns.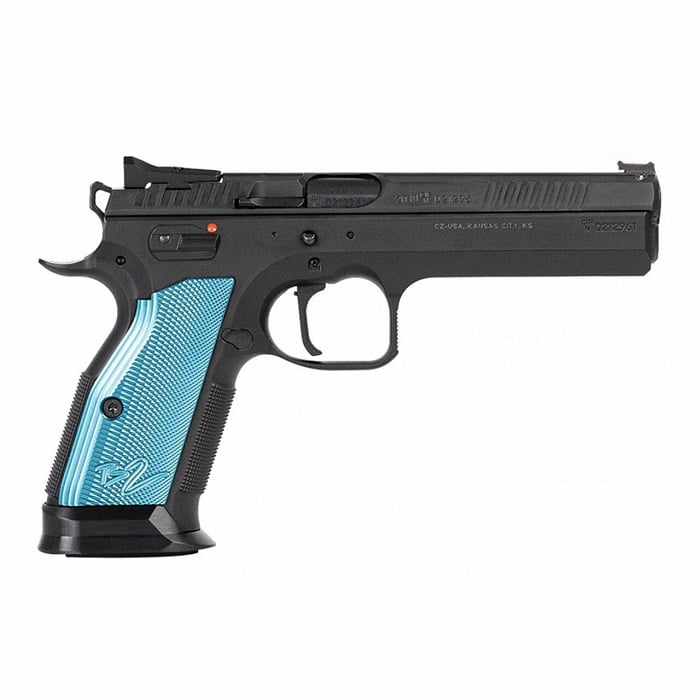 CZ TS2
Action: Single Action
Frame Material: Steel
Barrel Length: 5.28"
Capacity: 17rd
The CZ Tactical Sport line is famous among competitive shooters for its crisp single-action trigger and long sight radius. The TS2 sets the bar even higher, adopting the benefits of another CZ's crowd-pleaser Shadow 2 and adding more features to its list of advantages. Steel frame absorbs a significant part of the recoil from .40 S&W rounds, and it is as many as 17 of them that this pistol can house at a time. Even though steel adds more weight to the handgun, bringing it to 48.5 oz, it is still the best pistol for competitive shooting. A set of fixed target sights with the fiber optic front are made more durable than ever to withstand the austerities of competition. This handgun features a low bore axis and internal rails that place the slide closer to your hand, reducing the impact of recoil. With this, nothing throws you off aim after a shot, and the sights remain on target. Single action ensures a light trigger pull, and ambidextrous manual safety makes this hand either-hand friendly. The grip is embellished with blue aluminum stocks that add even more refinement to this already gorgeous pistol.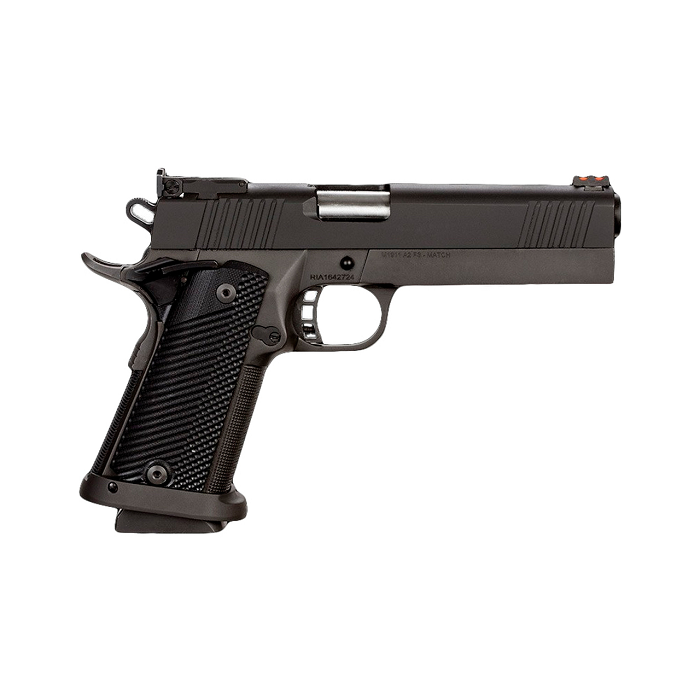 ARMSCOR PRO Ultra Match HC
Action: Single Action
Frame Material: Steel
Barrel Length: 5"
Capacity: 17rd
The final chord of our handgun symphony (if you are a musician, excuse us for this atrocious comparison), Armscor Pro Ultra Match HC is another pistol for competitive shooting. If you like nonstandard triggers, this pistol features a curved, serrated, skeletonized one. Extended beavertail grip safety prevents accidental hammer bites you might experience when recoil kicks off. However, the steel frame of this 46.4 oz soaks much of it up, so it's more of a precautionary measure. The optics set features high visibility fiber optic front sight and LPA adjustable rear sight, dovetailed in a low-mount slide cut. This Armscor Pro Ultra Match HC is fully checkered on both the frontstrap and backstrap and features G-10 grip panels for the most convenient holding experience. Ambidextrous safety, a recurring feature on this list, crowns the list of benefits.