There are hundreds of brands whose products you can acquire on Gritr Sports. Do we keep track of them all? Of course, we do. Is it easy? By no means. Some brands, however, take no time to remember at once or recall later – that's how memorable they are. Without undue modesty, Beretta clearly belongs to this group of brands. After you find out it's an almost-500-year-old business ruled by a single family, it cannot but imprint in your memory. But an impressive backstory is not the only merit of this brand. It has an impressive range of quality products from pistols and holsters to shirts and vests. Today, we've compiled a review of five Beretta products that deserve your attention.
Beretta Tactical Green Stone Backpack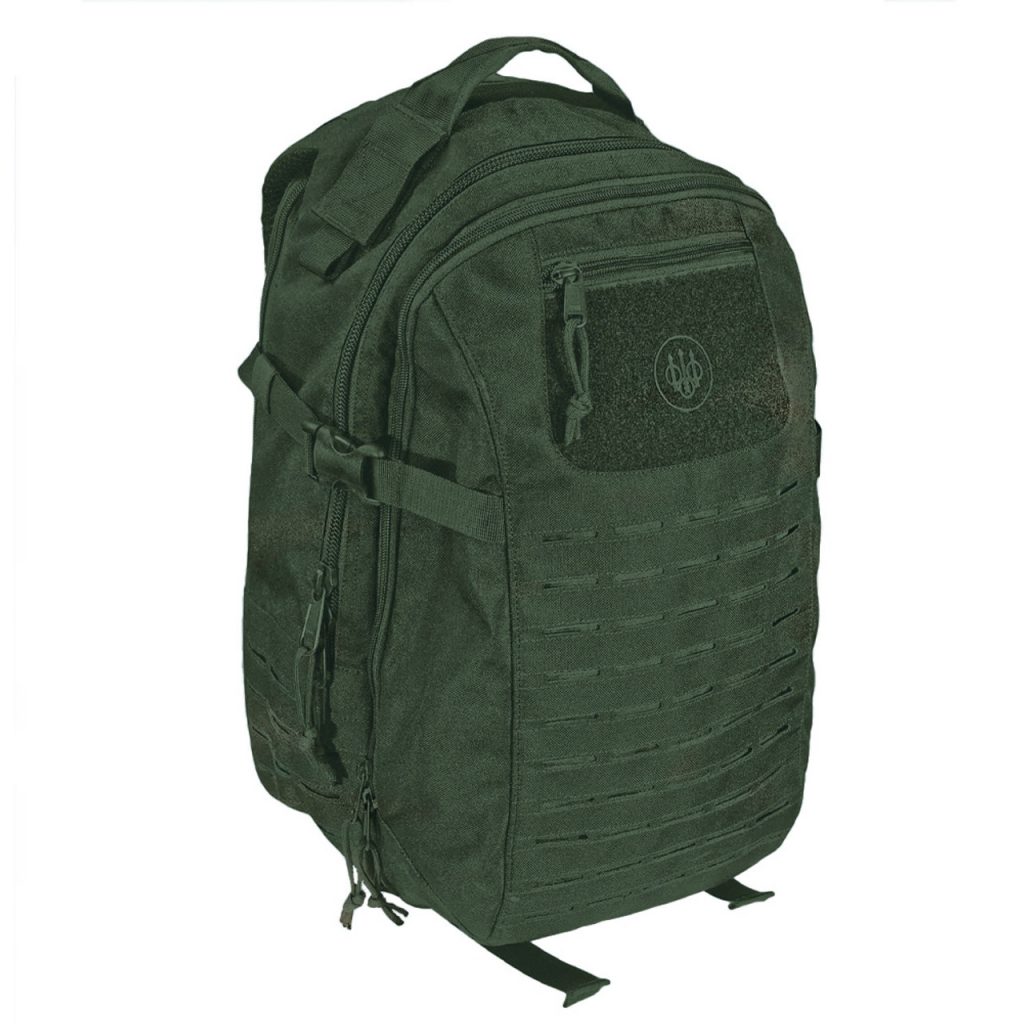 How many applications does a tactical backpack have? Not too many, but you don't need to be a Jack of all trades if you are excellent at what you are supposed to do. Many a backpack can hold things successfully, so what makes the Beretta tactical backpack stand out? First and foremost, it is all about quality. Even though most of the bags you can find on the market won't rupture at once if you pack them too tightly, straps are the ultimate weak spot that can betray you when you least expect it. This Beretta backpack lacks this drawback, being able to stoically withstand the weight of your equipment just like any other exemplary tactical backpack. It is spacious enough for you to bring everything you need to a shooting range or a hunt, with around 29 liters of space available for filling. Long-lasting 600D resistant nylon coated with durable water-resistant polyurethane makes sure no elements may harm the exterior of your backpack. 
In addition to being robust and high-capacity, this backpack is also comfortable to wear and use! Padded back takes care of your back's wellbeing, while quality YKK zippers are quick to zip and unzip. Not only is it a great tactical backpack, but it also works perfectly as an EDC backpack. It has two compartments where you can keep your laptop, water bottles, notebooks, study books – whatever it is you currently need to be with you. The shade of green is beautiful, so it's a win on all fronts. 
Beretta Slim-Tuck APX Right Hand Appendix IWB Holster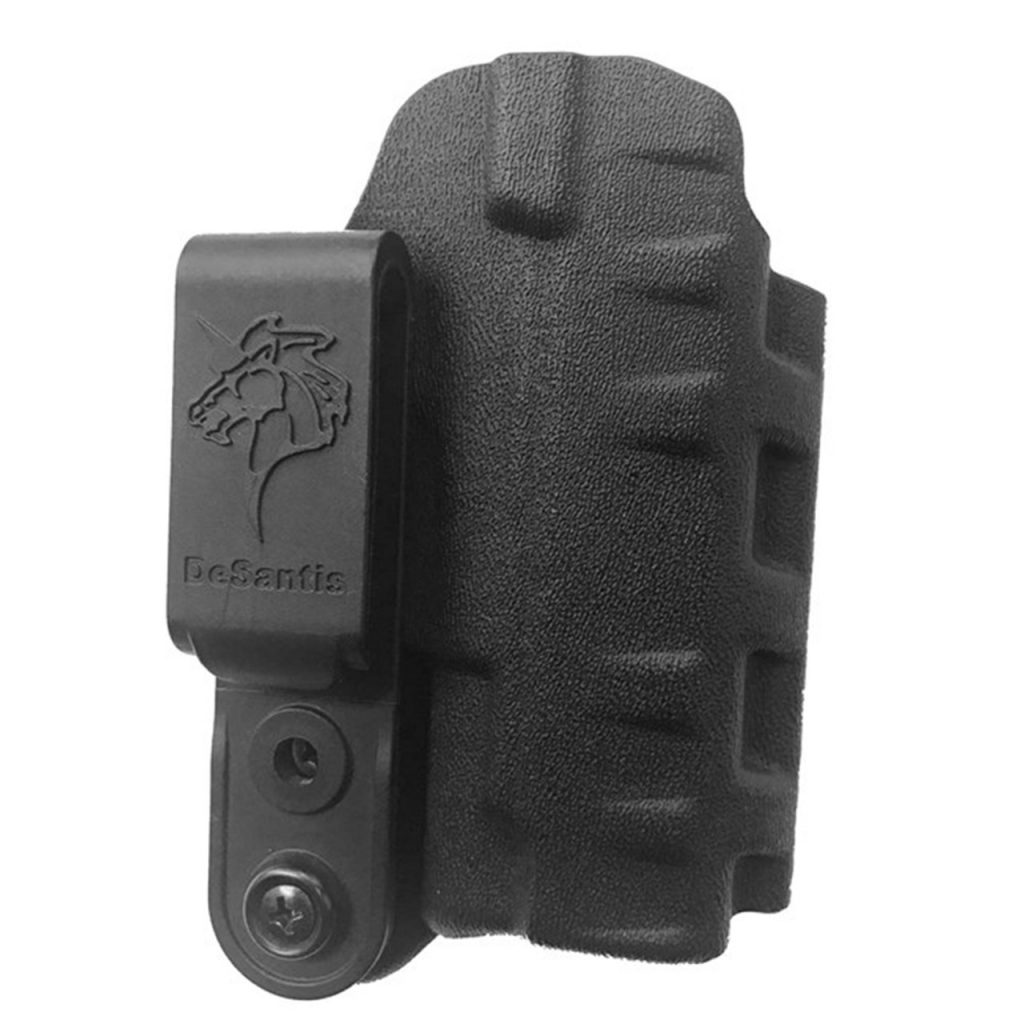 Holsters are an essential part of concealed carry, only slightly less essential than the guns themselves. Inside waistband holsters are one of the primary candidates for CC housing, and once you get used to wearing them, you might want to stick to this type forever. This Beretta APX holster is designed specifically for APX carry pistols, so make sure that's the gun you are choosing the holster for. It's made from a benchmark strength thermo-formed polymer and equipped with a tension retention system for the ultimate security of your gun. If you prefer slim, not bulgy holsters (which is somewhat of a must for an IWB holster), this model definitely deserves your consideration. There are adjustable clips that can help you configure it to meet your personal needs. Note that this Beretta holster fits only right-handers, so should you be a left-hander, consider taking a look at ambidextrous variants. 
Beretta Olive Green Full Mesh Vest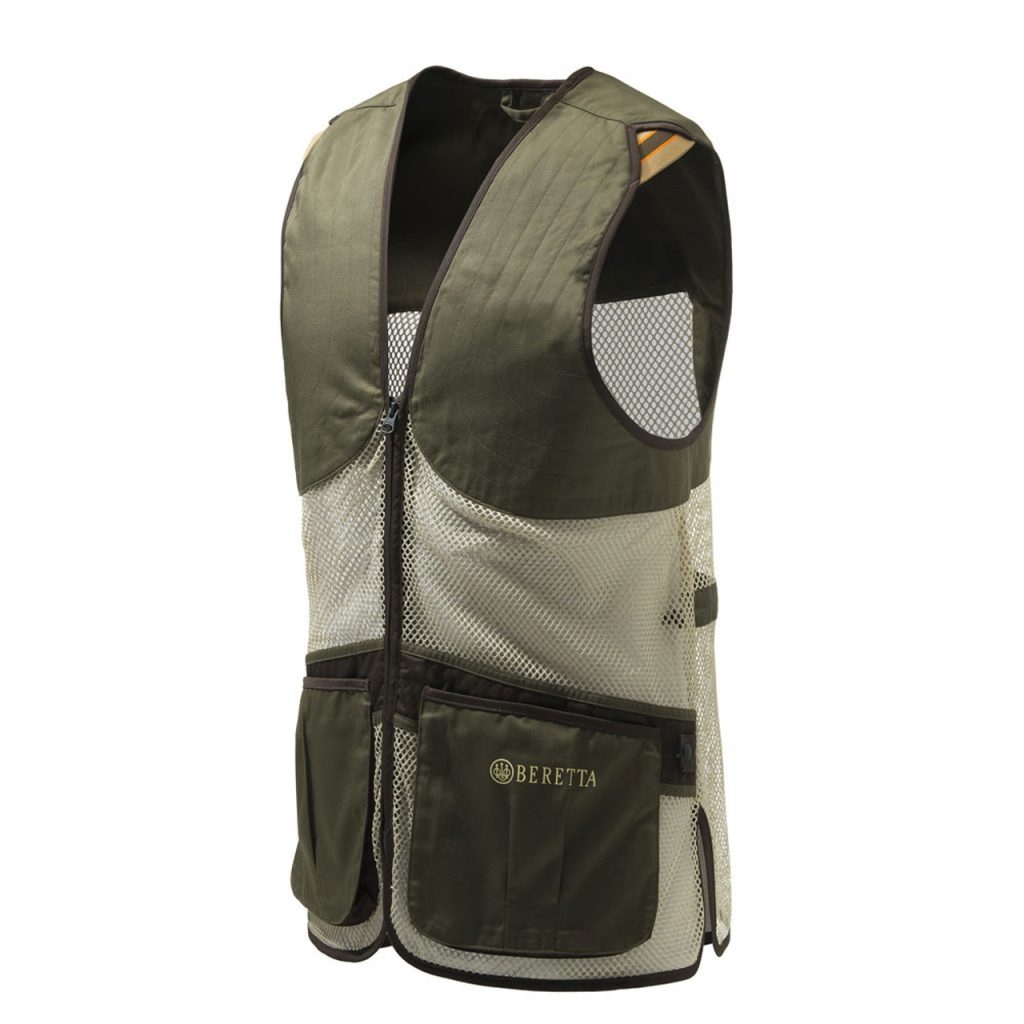 Vests are the middle ground between jackets and lighter garments. They combine the best features of both worlds. A Beretta shooting vest can help you get through the heat of competition (or a hot day) and stay warm on chilly and windy days. As you might expect from Beretta, the design is thoroughly thought through. While cotton remains a basic material, the vest features strategically placed breathable meshes on the front and back to keep the airflow going, allowing refreshing air to pass through. 
The pockets are also ample: you can store cartridges in the front ones while keeping personal belongings in the inner ones. The inner pockets can also hold Beretta recoil reducers, in case you own one and don't know where to put it. The vest also features elastic shoulder inserts for more expeditious movements and even a towel binding on the back. All the reviewers strongly suggest you get one or two sizes bigger than you normally do.
Beretta Challenge Evo Neutral Shooting Glasses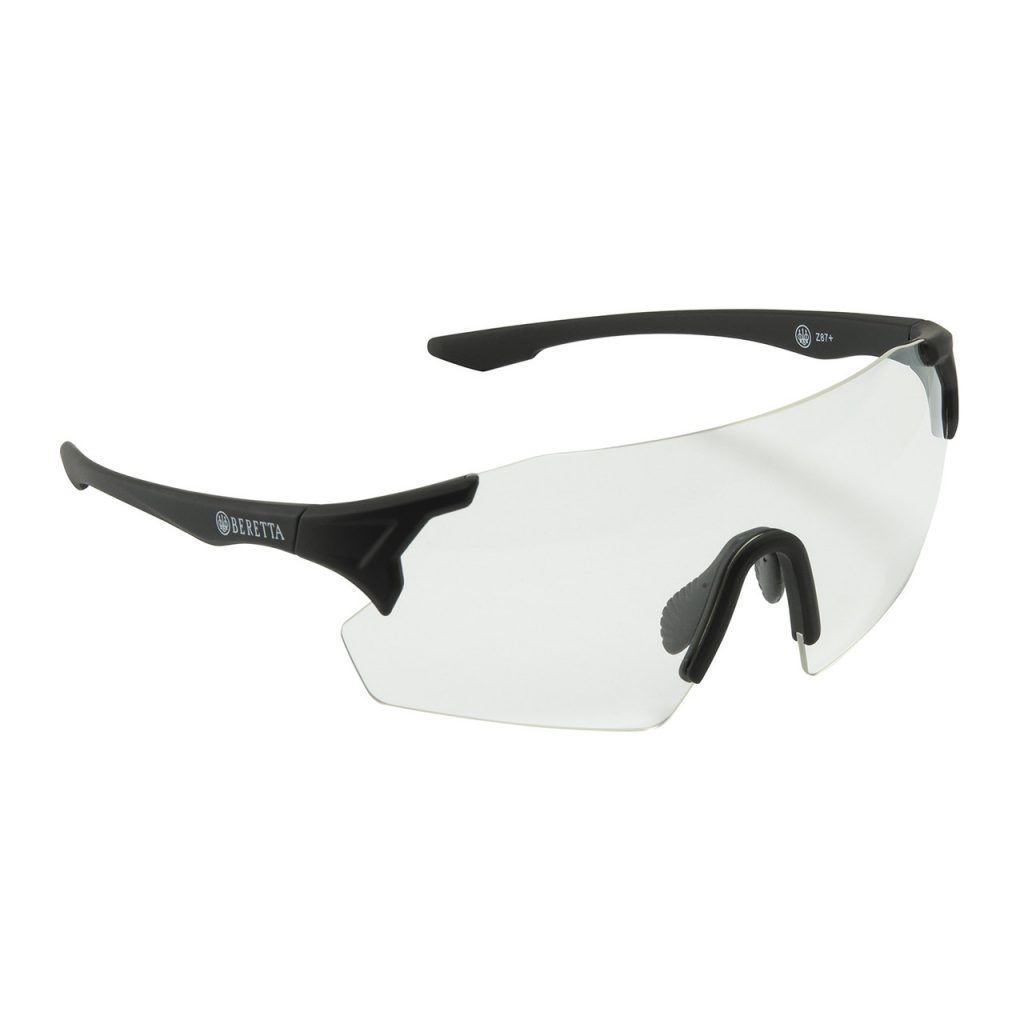 While everybody acknowledges the necessity of hearing protection for range shooting, some people consider eye protection an overkill. No shooting range instructor would agree with them, though, and there is no such thing as being too careful. Beretta shooting glasses not only protect your eyes from ejected cases or recoil-caused traumas but also grant you certain optical advantages. Challenge Evo glasses, for example, feature colored lenses that can negate certain visual light-related obstacles or enhance the visibility of the target. There are four colors available, designed for shooting in bright, normal, low-light, and fog conditions.
Even though functionality is the determining factor when choosing equipment, glasses are still an accessory and they should look accordingly. Fit for a world-famous brand, these glasses feature a simple but sleek design. Ever-stylish black matte frames with a comfortable wraparound curve and uncluttered lens design make these glasses a functional piece of equipment and a cool-looking addition to your shooting wardrobe. They shine equally bright on shooting ranges and during hunts.
Beretta Hunter Tech Trolley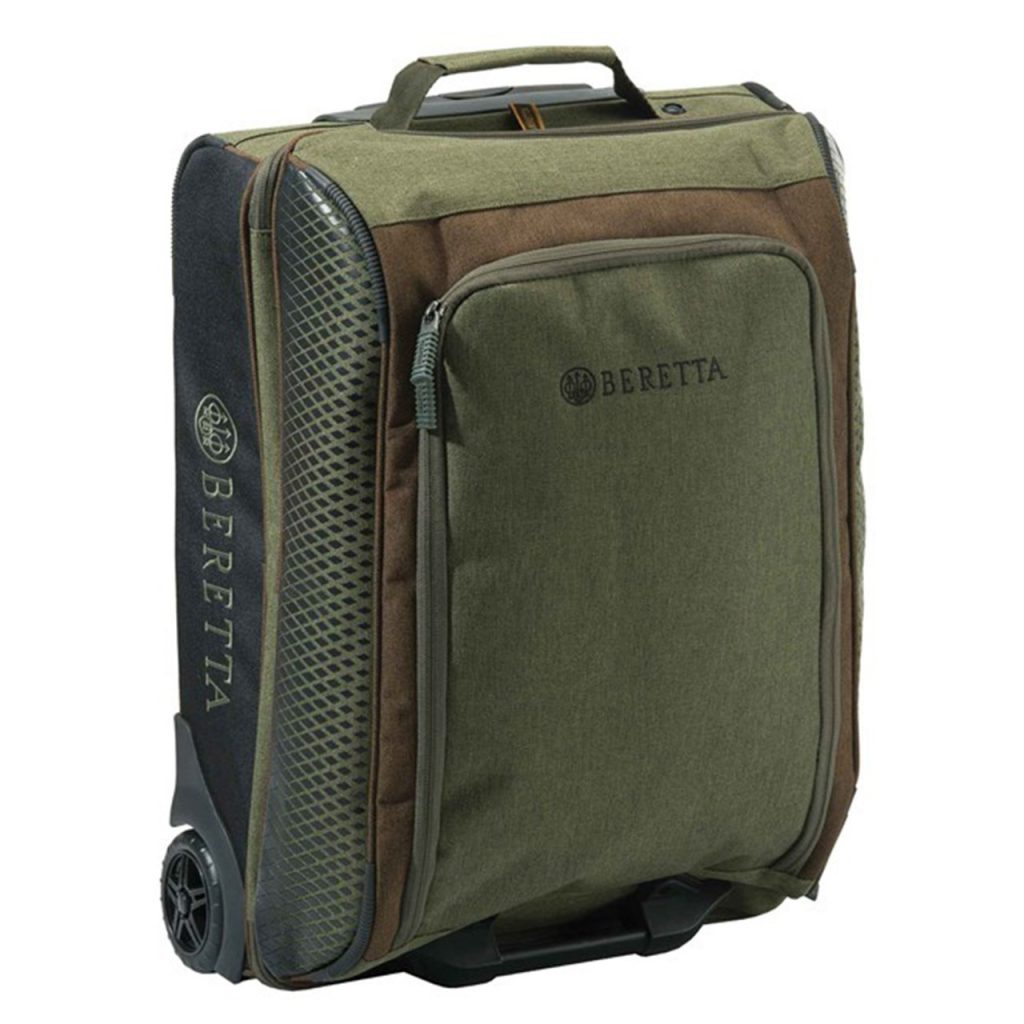 When you feel like your daily routine starts getting on your nerves and there is nothing you'd want more than even a brief weekend getaway, a Beretta trolley will be there in the corner, waiting for you. Be it a quiet piece of civilization or a remote cabin in the middle of the wilderness, this trolley fears nothing, for the scratch-resistant surface will protect it from any, well, scratches. As befits a true trolley, it is very capacious and can house all the necessary pieces of equipment and personal belongings you might want to take with you.
There are two main compartments as well as multiple inner storing solutions. The bottom of the trolley is reinforced with kick plates, and the wheels themselves are very robust. There are as many as three ways for you to transport it: by holding one of the two handles located on the top and the side or through a telescopic handle making use of those wheels. There is also an ID tag embellishing the back of the trolley, where you can place anything you find appealing. Or your contact information, whatever you find more useful. But be sure you won't lose it from your sight: it stands out in the crowd quite a lot.
You can acquire all the listed products on Gritr Sports, your dedicated gun store driven by freedom!