Have you ever felt alone, uneasy and physically unsafe while walking home, having doubts about your next steps? What can you do to help yourself should the unfortunate circumstance ever happen? Having the right self-defense product is a must. It's better to think ahead then to find yourself unarmed in an unfortunate situation.
Self-defense tools and self-defense knowledge may never be used, or they may save someone's life one day. They also will provide you peace of mind.

Here are 5 best women's self-defense products:
SELF-DEFENSE KEY CHAIN
Key chain weapon is the most easily accessible weapon in the event of attack, because it pins right on your key-chain, that is always with you. Self-defense key chain reinforces your fist and enables you to throw a good punch. This stylish, compact and lightweight tool is very easy to use and carry. This is an inexpensive addition to any self-defense women's arsenal.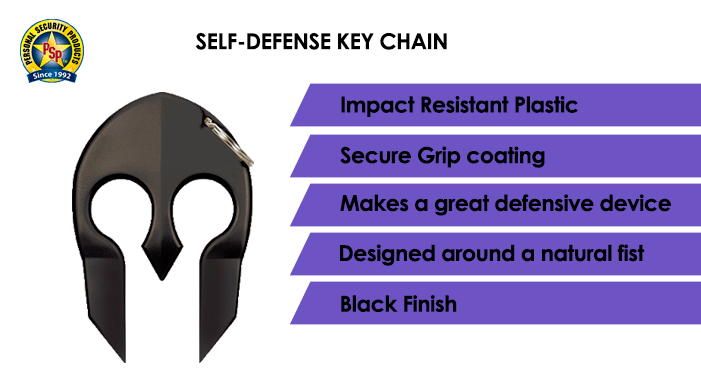 Benefits: lightweight and small, easy to carry, pose no danger to you.
YOU CAN BUY ONE HERE
PEPPER SPRAY
Pepper Spray is considered to be one of the most effective means of debilitating an oncoming attacker. While a stranger is temporary blinded, you've got more chances to escape. Pepper sprays are compact, so they fit any women's purse, which allows having Pepper Spray with you most of the time.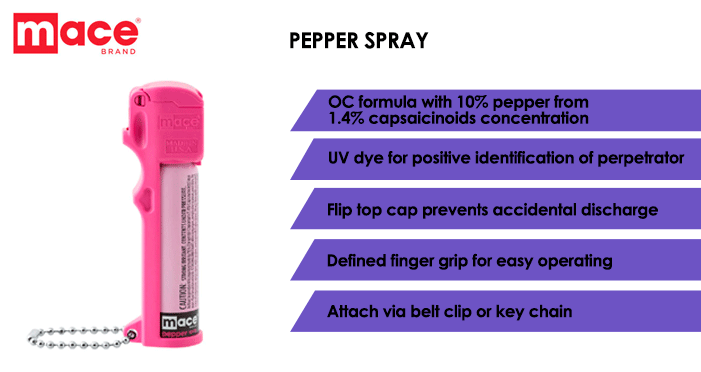 BUT you DO NEED to follow the instructions on how to use this self-defense item not to become a victim of pepper spray yourself.
Make sure you know how many shots of pepper spray are remaining in your canister.
Check whether you haven't forgotten it at home and it is accessible and not buried somewhere in your bag, otherwise it won't help you.
Use your thumb finger when spraying. It allows to wrap four fingers and palm around the pepper spray and hold it tight, so that you wouldn't drop it.
Keep a safe distance and DO NOT use in close spaces, like cars, because otherwise you'll become affected, too.
Aim at the enemy's eyes to maximize the effect of pepper spray.
Little practice beforehand wouldn't hurt.
Benefits: highly effective, compact, light, improper use may pose risk to a defender.
SHOP FOR PEPPER SPRAYS HERE
FIST/KNUCKLE STUN GUN WITH FLASHLIGHT
In case if you don't like the risks and mess associated with pepper spray, then you probably won't mind getting a stun gun.
It's another easy to carry self-defense tool for women that provides you with a bright flashlight and a powerful stun gun, all in one.
The base of the protector fits securely in the palm of your hand and places the electricity over your fist in a natural striking position.
The front of the unit has a bright flashlight. Not only it will safely illuminate the entire area at night, but also the light can have a temporary blinding effect in a precarious situation when shined in the eyes of an attacker.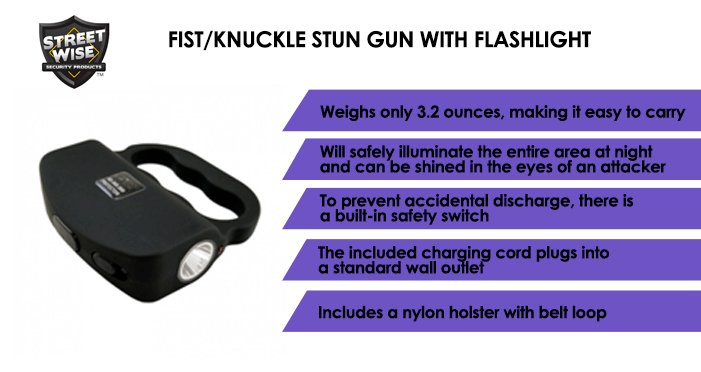 Benefits: Light, easy to carry, stun gun and flashlight in one tool.
BUY HERE
STUN GUN WITH LED FLASHLIGHT
A bigger version of a stun gun but nobody will know that, because guess what, it looks like a flashlight. This self-defense item in a women's purse will give her more confidence. Flashlight and crackle alone is able to ward off most danger and 1 mill. Volts is sure to neutralize any attacker. Spiked electrodes are sharp enough to penetrate even thick clothes.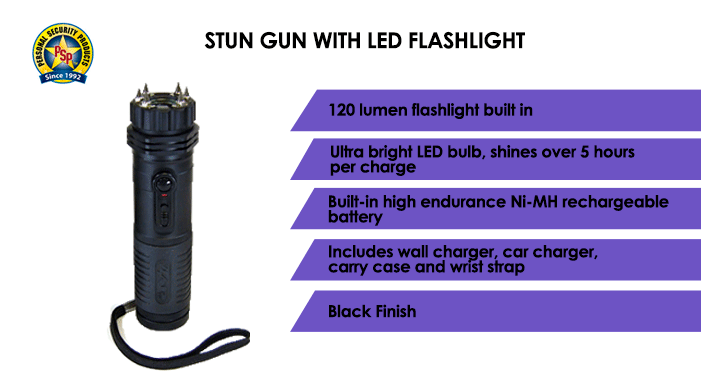 Benefits: nobody will know you have a stun gun, because it looks like a flashlight, easy to carry, easy to use.
PEPPERBALL LIFE LITE
This Pepperball LifeLite looks like a regular flashlight as well, but in reality, it combines a bright LED flashlight, a launcher and a laser. The Pepperball Lifelite can be carried with you just about anywhere because it is, and looks like a common flashlight, so you can have it in your hand for quick use if needed. Pepper balls are launched using CO2 cartridges, similar to a paintball gun, and are filled with powder that can spread up to 12 feet when they burst on impact. This means that you don't need to have a direct hit to have significant impact. The laser site is activated when you remove the safety to expose the trigger to help you easily aim, and the laser alone may deter an aggressor.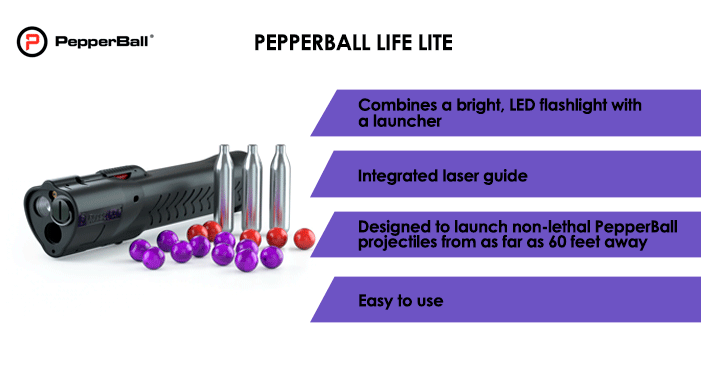 Benefits: powerful non-lethal weapon disguised as a flashlight.
SHOP FOR PEPPERBALL HERE